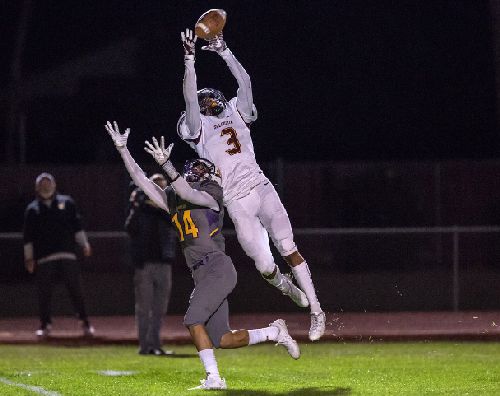 HS Football Recruiting: Class of 2018
A look at the signings for the current class of seniors. To follow along with the Class of 2019, go to www.gridironarizona.bravesites.com/recruiting.
UPDATED: 3/18/18
Colleges across the nation continue to take notice of the prep talent in Arizona more and more over the past few seasons. More than 260 players from the Class of 2018 have signed with four-year schools since February to continue playing football, and receive an education.
And here they are:

CLASS OF 2018 SIGNINGS

ADAMS STATE GRIZZLIES
Sean Benke (C) - Marana Mountain View
AIR FORCE FALCONS
Jaden Hoyt (OT) - Northwest Christian
Caleb Humphrey (LB) - Desert Vista
Max Massingale (QB) - Saguaro
Cade Matthews (LB) - Higley
Corvan Otanez (SS) - Gilbert
ARIZONA WILDCATS
Jamarye Joiner (QB) - Cienega
David Watson (OT) - Amphitheater
ARIZONA CHRISTIAN FIRESTORM
Jeremiah Cunningham (TE) - Basha
Drew DeBree (WR) - Gilbert Christian
Justus DuFour (OT) - Fairfax
Nick Flores (QB) - Walden Grove
Manny Higuera (K) - Paradise Valley
Isiah Jacobs (LB) - Combs
Zach Johnson (DL) - Northwest Christian
Timothy Knight (WR) - Moon Valley
Mahal Lee (QB) - Cactus
Percy Matthews (DB) - Cesar Chavez
JeVaughn McBeth (LB) - Central
Ty Miller (DE) - Desert Ridge
Alex Morgan (CB) - North Canyon
Mariano Perez (LB) - Buckeye
Jaylen Reed-White (WR) - Bourgade
Blake Relyea (OG) - Valley Vista
Greg Tremble (WR) - Liberty
Xavier Watkins (WR) - Paradise Valley
Grant Wojnarowski (OT) - Ironwood
Joel Zurita (LB) - Westview
ARIZONA STATE SUN DEVILS
Jarick Caldwell (TE) - Chandler (walk-on)
Ralph Frias (OT) - Safford
Angel Ruiz (WR) - Sunrise Mountain (walk-on)
Marco Salas (OT) - Dobson (walk-on)
Jordan Ware (DB) - Centennial (walk-on)
Joseph Zepp (K) - Saguaro (walk-on)
ARKANSAS-MONTICELLO BOLL WEEVILS
Jake Wagner (OT) - Sunrise Mountain
BAKER WILDCATS
Marcus Johnson (LB) - McClintock
BEMIDJI STATE BEAVERS
Elijah Shumate (LB) - Valley Vista
BETHEL (MINN.) ROYALS
Jordan Diaz (CB) - Arizona College Prep
BLACK HILLS STATE YELLOW JACKETS
Nikolas Arnold (DT) - Florence
Nolan Susel (RB) - Florence
BUENA VISTA BEAVERS
Derien Beauregard (FS) - Vista Grande
BYU COUGARS
Cash Peterman (K/P) - Chandler (walk-on)
Gunner Romney (WR) - Chandler
CALIFORNIA GOLDEN BEARS
Slater Zellers (LS) - Notre Dame
CHADRON STATE EAGLES
Kael Juelfs (LB) - Lee Williams
Ethan Zimmerman (FS) - Apache Junction
COASTAL CAROLINA CHANTICLEERS
Derick Bush (CB) - Salpointe
COLORADO MESA MAVERICKS
Tre Hart (WR) - Chandler
COLORADO STATE RAMS
Braden Ford (FS) - Perry (walk-on)
Ross Reiter (LS) - Brophy
CONCORDIA COLLEGE (MINN.) COBBERS
Donovan Arthur (WR) - Brophy
Julian Chism (C) - Red Mountain
Angel Ledezma (DT) - Marana
Mason Russo (LB) - Cactus Shadows
CONCORDIA (WISC.) FALCONS
Freddie Frazier (LB) - Ironwood Ridge
CSU-PUEBLO THUNDERWOLVES
Gary Bragg (RB) - Mountain Pointe
Brandon Brody (K) - Williams Field
Kyle Carriker (LB) - Pinnacle
Darius Holton (CB) - Perry
Tavian Robey (DT) - Marana Mountain View
Keith Wesley (LB) - Higley
DAKOTA STATE TROJANS
Jackson Dark (OT) - Combs
Colten Shaw (OG) - Combs
Seth Smith-Moshier (DE) - Buena
DIXIE STATE TRAILBLAZERS
Josh Carlson (P) - Gilbert
DOANE TIGERS
JoPaul Arbizo (OG) - Safford
Stanford Staley (DE/QB/SB) - Monument Valley
DORDT DEFENDERS
Shane Mathis (WR/FS) - Florence
DUBUQUE SPARTANS
Elijah Cabrera (TE) - Desert Edge
Tanner Hoffman (TE) - Scottsdale Christian
EASTERN NEW MEXICO GREYHOUNDS
Khalif Ravenell (DE) - Mountain Pointe
ELMHURST BLUEJAYS
Kyle Kerivan (WR) - Williams Field
FRANKLIN PIERCE RAVENS
Jaguar Mixson (LB) - Apollo
GEORGE FOX BRUINS
Aaron Valenzuela (OG) - Ironwood Ridge
GEORGETOWN HOYAS
Delano Salgado (CB) - Mountain Pointe
HAMLINE PIPERS
Rodrigo Nieto (QB) - Salpointe
HAWAII RAINBOW WARRIORS
Ilm Manning (OT) - Apollo
HILLSDALE CHARGERS
Kendall Tobin (DT) - Pusch Ridge
HIRAM TERRIERS
Brandon Cates (RB) - Imagine Prep Superstition
IDAHO VANDALS
Conlan Carey (RB) - Chapparal (walk-on)
Michael Maafu (DT) - Saguaro
IOWA STATE CYCLONES
Brayden Narveson (K) - Desert Mountain
Brock Purdy (QB) - Perry
Joey Ramos (OT) - Deer Valley
JAMESTOWN JIMMIES
Connor Roy (C) - Millennium
Colton Sandberg (DE) - Chino Valley
JOHNS HOPKINS BLUE JAYS
Parker Redd (WR) - Pinnacle
KANSAS WESLEYAN COYOTES
King Kyler Fanene (OT) - Shadow Ridge
Max McCrossen (S) - Hamilton
LAKE FOREST FORESTERS
Connor Busch (TE) - Cactus Shadows
Noah Gonzales (QB) - Brophy
Joey Jaquint (LB) - Notre Dame
Mathew Koziol (LB) - Chandler
Kobee Marion (CB) - Corona del Sol
Robert McPhee (DE) - Chandler
Anthony Rieck (SS) - Chandler
Yohan Stokes (SS) - Yuma Catholic
Jamari Tansmore (C) - Chandler
LINFIELD WILDCATS
Adan Sanders (WR) - Trivium Prep
LOUISIANA RAGIN' CAJUNS
Shomari Hayes (DT) - Mountain Pointe
MARIETTA PIONEERS
Darius Hatch (SS) - Mesa
Nate Hinckley (WR) - Cesar Chavez
MARY MARAUDERS
Antonio Cuevas (SS) - Saguaro
Davon Jones (RB) - La Joya
Danny Kittner (WR) - Higley
Vinnie Meloy (OT) - Williams Field
Dallas Pena (OT) - Valley Vista
MASSACHUSETTS MINUTEMEN
Donte Lindsey (CB) - Mountain Pointe
MAYVILLE STATE COMETS
Jacori Murphy (WR) - South Mountain
MINNESOTA CROOKSTON GOLDEN EAGLES
Joey Sanchez (LB) - Red Mountain
MINOT STATE BEAVERS
Justin Coleman (FS) - Red Mountain
Scott Fallers (QB) - Westview
MISSOURI TIGERS
Xavier Delgado (OT) - Deer Valley
MISSOURI S&T MINERS
Ryan Langford (TE) - O'Connor
MONTANA GRIZZLIES
Sean Anderson (OT) - Verrado
MONTANA STATE BOBCATS
Ruben Beltran (QB) - Centennial
MOUNT ST. JOSEPH LIONS
Arvonte' Neal (CB) - Florence
Joseph Perez (QB) - Buckeye
NEVADA WOLF PACK
Josiah Bradley (S) - Saguaro
Giovanni Miranda (TE/LB) - Saguaro
NEW MEXICO STATE AGGIES
Alex Escobar (RB) - Centennial (walk-on)
Kai Golden (DT) - Marana Mountain View
Sky Hinojosa (WR) - Mountain Pointe (walk-on)
Grant Mileski (TE) - Horizon
Isaiah Mursalat (OT) - Horizon
Justin Segura (DT) - Horizon
Max Wilhite (C) - Desert Edge
Austin Young (OT) - Desert Edge
NORTHERN ARIZONA LUMBERJACKS
Jake Ayala (TE) - Queen Creek (walk-on)
Heath Beemiller (QB) - Ironwood Ridge
John Chaffeur (WR/CB) - Prescott (walk-on)
John Clark (DT) - Liberty
Larry Davis (LB) - Desert Vista
Erik DiMaria (FB) - Brophy (walk-on)
Detrick Gammage Jr. (DE) - Chandler (walk-on)
Brogan Heath (OT) - Williams Field
Bric Hudnutt (TE) - Paradise Valley
Jayden Lee (OT) - Campo Verde
Ricky Manning (FS) - Notre Dame
Riley Pagel (P) - Red Mountain (walk-on)
Jason Pisano (LB) - Yuma Catholic
Chris Rogers (OT) - Youngker (walk-on)
Harmon Shacklette (OG) - Northwest Christian (walk-on)
Tate Speaker (TE) - Perry
Jackson Vaught (DT) - Williams Field
Jacob Veach (K) - Pinnacle (walk-on)
NORTHWESTERN (IOWA) RED RAIDERS
Jared Gerdes (OT) - Basha
NORTHWESTERN WILDCATS
Drake Anderson (RB) - Chandler
OHIO STATE BUCKEYES
Luke Donovan (SS) - Desert Mountain (walk-on)
OREGON DUCKS
Tyler Shough (QB) - Hamilton
OTTAWA SPIRIT
Keauntre Ayers (C) - Westview
Dylan Bean (DE) - Skyline
Adam Berthelot (DT) - Combs
Elijah Boyd-Volakis (OT) - Florence
Isaiah Briggs (RB) - Glendale
Matthew Brown (LB) - Northwest Christian
Matthew Campbell (OG) - Skyline
Vincent Corral (DT) - Perry
Craig Dennis (LB) - Sunrise Mountain
Edward Donaldson (LB/SS) - Maricopa
Caleb Easley (WR) - San Tan Charter School
Tom Ferington (DE) - Fountain Hills
Scotty Finnerty (WR) - Bagdad
Nick France (OL/DL) - St. Mary's
Moises Guevara (C) - Mesa
Mike Hill (LB) - Sierra Linda
Joshua Lee (LB) - Basha
Austin Lloyd (OL/DL) - Fountain Hills
Stevie Maddox (WR) - Tempe
Javier Meza (OL) - Cesar Chavez
Matthew Moore (OG) - Trivium Prep
Scotty Nixon (RB) - Shadow Ridge
Josh Orozco (K/P) - Estrella Foothills
Kevon Owens (CB) - Williams Field
Rocky Perez (RB) - Desert Edge
Baylen Redfern (OG) - Maricopa
Jakob Redford (LB) - American Leadership
Carlos Ritchie (CB) - Cesar Chavez
Adrian Rivera (OG) - Mesa
Michael Robinson (RB) - American Leadership
Rodney Rogers II (CB) - Cienega
Isaiah Romero (LB) - Sunnyside
Zion Saole (DT) - Maricopa
Brian Strobel (LB) - Skyline
Alay'Jon Tamplin (NG) - McClintock
Bobby Tomerlin (LB) - Desert Ridge
Sekou Tyler (DB) - Goldwater
Anthony Van Dezor (WR) - Sedona Red Rock
D'Montae Williams (WR) - Vista Grande
Gabe Williams (DE) - Red Mountain
PRESENTATION SAINTS
Robert Eblen (LB) - Willow Canyon
PRINCETON TIGERS
Luke Aschenbrand (OG/DT) - Pinnacle
PURDUE BOILERMAKERS
Jack Plummer (QB) - Gilbert
REDLANDS BULLDOGS
Jonah Brownell (DT) - Horizon
John Waters (WR) - Brophy
RICE OWLS
Campbell Riddle (LS) - Centennial (walk-on)
RIPON RED HAWKS
Jett Campbell (RB) - Basha
Anthony Mosqueda (FS) - Yuma
Tucker Parrish (SS) - Pinnacle
Dylan Stevenson (CB) - Pinnacle
ROCKY MOUNTAIN BATTLIN' BEARS
Domonick Amendolara (CB) - Gilbert
Caden Bethel (WR) - Desert Ridge
Prince Johnson (LB) - Perry
Stason Makaila (C) - Hamilton
Colin Maslin (DT) - Hamilton
Kayden Scatena (OT) - Hamilton
Cooper Stauss (OT) - Desert Ridge
Ian Torrez (DT) - Hamilton
Austin Werbelow (CB) - Desert Vista
Jacori Wooten (K) - Queen Creek
ST. SCHOLASTICA SAINTS
Angelo Johnson (LB/DE) - Imagine Prep Superstition
Joseph Ontiveros (WR) - Imagine Prep Superstition
Valentin Ontiveros (QB) - Imagine Prep Superstition
SAN DIEGO TOREROS
Vincent Elrod (LB) - Notre Dame
Derek Kline (QB) - Desert Vista
Tim Lockhart (WR) - Hamilton
James Reed (TE) - Boulder Creek
SAN DIEGO STATE AZTECS
Zidane Thomas (RB) - Centennial
SIMON FRASER CLAN
Harrison Copoloff (TE) - Notre Dame
SIOUX FALLS COUGARS
Ja'tai Jenkins (RB) - Verrado
Christian Medeiros (DT) - Desert Ridge
SOUTH DAKOTA SCHOOL OF MINES HARDROCKERS
Gavin Chaddock (LB) - Sunrise Mountain
Adrian Eastman (SS) - Higley
Hunter Jaskey (DE) - Boulder Creek
Kendahl Johnson (CB) - O'Connor
SOUTH DAKOTA STATE JACKRABBITS
Clayton Hooper (CB) - Hamilton (grayshirt)
SOUTHERN UTAH THUNDERBIRDS
Draycen Hall (RB) - Higley
Lance Lawson (RB/WR) - Red Mountain
Tanner McLachlan (WR) - American Leadership
Aaron Romero (DT) - Skyline
Gerald Wilbon (CB) - Red Mountain
SOUTHERN VIRGINIA KNIGHTS
Delton Jackson (LB) - Red Mountain
Skylar Johnson (QB) - Combs
Nick Scow (FB/TE) - Red Mountain
Powell Skiba (DE) - Benjamin Franklin
Apolo Ta'ase (DT) - Desert Ridge
Brandon Teuscher (FB) - Benjamin Franklin
Ethan Winfield (TE) - Desert Ridge
STANFORD CARDINAL
Donjae Logan (CB) - Desert Ridge
UCLA BRUINS
Kenny Churchwell (SS) - Mountain Pointe
UNLV REBELS
Bryce Jackson (CB) - Chandler
Chris Manoa (DT) - Chandler
Patrick McInerney (LS) - Saguaro (walk-on)
USC TROJANS
Andrew Mageo (OG) - Red Mountain (walk-on)
Zach Wilson (WR) - Saguaro (walk-on)
UTAH UTES
Solomon Enis (WR) - North Canyon
Tre O'Guinn (LB) - North Canyon (walk-on)
UTEP MINERS
Ryan Warren (LS) - Perry
VALLEY CITY STATE VIKINGS
Christian Alvarado (LB) - Valley Vista
Avien Romero (OL) - Cibola
VANDERBILT COMMODORES
Kyle White (DE) - Notre Dame (walk-on)
WAGNER SEAHAWKS
Shelton Mathis (LB) - Florence
WASHBURN ICHABODS
Mason Honne (C) - Mountain Pointe
WASHINGTON HUSKIES
Dominique Hampton (CB) - Centennial
Matteo Mele (OT) - Salpointe
WASHINGTON (MO.) BEARS
Shay Zutshi (DE) - Hamilton
WASHINGTON STATE COUGARS
Hunter Mayginnes (OT) - Hamilton (blueshirt)
WEBER STATE WILDCATS
Kris Jackson (RB) - Mesa
Kylan Weisser (QB) - Notre Dame
WESTERN NEW MEXICO MUSTANGS
Khalil Gardley (TE) - Buena
Mac Potterf (DT) - Desert Vista
WILLAMETTE BEARCATS
Raymond Hixon (FB) - St. Mary's
WILLIAM PENN STATESMEN
Jaden Curtis (DE) - Copper Canyon
Brian Davison II (LB) - Millennium
Marlon Noralez (RB) - South Mountain
WISCONSIN-STOUT BLUE DEVILS
Cannon Griner (QB) - Red Mountain