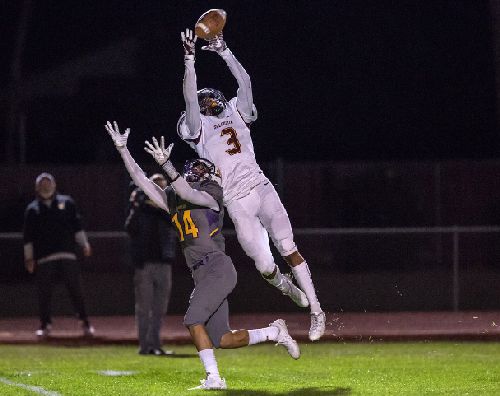 HS Football Recruiting: Class of 2018
A look at the signings for the current class of seniors. To follow along with the Class of 2019, go to www.gridironarizona.bravesites.com/recruiting.
UPDATED: 3/18/18
Colleges across the nation continue to take notice of the prep talent in Arizona more and more over the past few seasons. A total of 230 players from the Class of 2018 signed with four-year schools since February to continue playing football, and receive an education.
And here they are:

CLASS OF 2018 SIGNINGS

ADAMS STATE GRIZZLIES
Sean Benke (C) - Marana Mountain View
AIR FORCE FALCONS
Jaden Hoyt (OT) - Northwest Christian
Caleb Humphrey (LB) - Desert Vista
Max Massingale (QB) - Saguaro
Cade Matthews (LB) - Higley
Corvan Otanez (SS) - Gilbert
Ezezkiel Robbins (CB) - Chandler
ARIZONA WILDCATS
Jamarye Joiner (QB) - Cienega
David Watson (OT) - Amphitheater
ARIZONA CHRISTIAN FIRESTORM
Jeremiah Cunningham (TE) - Basha
Drew DeBree (WR) - Gilbert Christian
Justus DuFour (OT) - Fairfax
Nick Flores (QB) - Walden Grove
Isiah Jacobs (LB) - Combs
Zach Johnson (DL) - Northwest Christian
Timothy Knight (WR) - Moon Valley
Percy Matthews (DB) - Cesar Chavez
JeVaughn McBeth (LB) - Central
Ty Miller (DE) - Desert Ridge
Alex Morgan (CB) - North Canyon
Jaylen Reed-White (WR) - Bourgade
Blake Relyea (OG) - Valley Vista
Greg Tremble (WR) - Liberty
Grant Wojnarowski (OT) - Ironwood
Joel Zurita (LB) - Westview
ARIZONA STATE SUN DEVILS
Ralph Frias (OT) - Safford
Marco Salas (OT) - Dobson (walk-on)
Jordan Ware (DB) - Centennial (walk-on)
Joseph Zepp (K) - Saguaro (walk-on)
BAKER WILDCATS
Marcus Johnson (LB) - McClintock
BEMIDJI STATE BEAVERS
Elijah Shumate (LB) - Valley Vista
BETHEL (MINN.) ROYALS
Jordan Diaz (CB) - Arizona College Prep
BLACK HILLS STATE YELLOW JACKETS
Nikolas Arnold (DT) - Florence
Nolan Susel (RB) - Florence
BUENA VISTA BEAVERS
Derien Beauregard (FS) - Vista Grande
BYU COUGARS
Cash Peterman (K/P) - Chandler (walk-on)
Gunner Romney (WR) - Chandler
CALIFORNIA GOLDEN BEARS
Slater Zellers (LS) - Notre Dame
CHADRON STATE EAGLES
Kael Juelfs (LB) - Lee Williams
Ethan Zimmerman (FS) - Apache Junction
COASTAL CAROLINA CHANTICLEERS
Derick Bush (CB) - Salpointe
COLORADO STATE RAMS
Braden Ford (FS) - Perry (walk-on)
Ross Reiter (LS) - Brophy
CONCORDIA (WISC.) FALCONS
Freddie Frazier (LB) - Ironwood Ridge
CSU-PUEBLO THUNDERWOLVES
Gary Bragg (RB) - Mountain Pointe
Brandon Brody (K) - Williams Field
Kyle Carriker (LB) - Pinnacle
Darius Holton (CB) - Perry
Tavian Robey (DT) - Marana Mountain View
Keith Wesley (LB) - Higley
DAKOTA STATE TROJANS
Jackson Dark (OT) - Combs
Colten Shaw (OG) - Combs
Seth Smith-Moshier (DE) - Buena
DIXIE STATE TRAILBLAZERS
Josh Carlson (P) - Gilbert
DORDT DEFENDERS
Shane Mathis (WR/FS) - Florence
DUBUQUE SPARTANS
Elijah Cabrera (TE) - Desert Edge
EASTERN NEW MEXICO GREYHOUNDS
Khalif Ravenell (DE) - Mountain Pointe
ELMHURST BLUEJAYS
Kyle Kerivan (WR) - Williams Field
FRANKLIN PIERCE RAVENS
Jaguar Mixson (LB) - Apollo
GEORGETOWN HOYAS
Delano Salgado (CB) - Mountain Pointe
HAMLINE PIPERS
Rodrigo Nieto (QB) - Salpointe
HAWAII RAINBOW WARRIORS
Ilm Manning (OT) - Apollo
HILLSDALE CHARGERS
Kendall Tobin (DT) - Pusch Ridge
HIRAM TERRIERS
Brandon Cates (RB) - Imagine Prep Superstition
IDAHO VANDALS
Conlan Carey (RB) - Chapparal (walk-on)
Michael Maafu (DT) - Saguaro
IOWA STATE CYCLONES
Brayden Narveson (K) - Desert Mountain
Brock Purdy (QB) - Perry
Joey Ramos (OT) - Deer Valley
JAMESTOWN JIMMIES
Connor Roy (C) - Millennium
Colton Sandberg (DE) - Chino Valley
JOHNS HOPKINS BLUE JAYS
Parker Redd (WR) - Pinnacle
KANSAS WESLEYAN COYOTES
Max McCrossen (S) - Hamilton
LAKE FOREST FORESTERS
Noah Gonzales (QB) - Brophy
Joey Jaquint (LB) - Notre Dame
Mathew Koziol (LB) - Chandler
Robert McPhee (DE) - Chandler
Yohan Stokes (SS) - Yuma Catholic
Jamari Tansmore (C) - Chandler
LINFIELD WILDCATS
Adan Sanders (WR) - Trivium Prep
MARIETTA PIONEERS
Darius Hatch (SS) - Mesa
MARY MARAUDERS
Antonio Cuevas (SS) - Saguaro
Davon Jones (RB) - La Joya
Danny Kittner (WR) - Higley
Vinnie Meloy (OT) - Williams Field
Dallas Pena (OT) - Valley Vista
MINNESOTA CROOKSTON GOLDEN EAGLES
Joey Sanchez (LB) - Red Mountain
MINOT STATE BEAVERS
Justin Coleman (FS) - Red Mountain
Scott Fallers (QB) - Westview
MISSOURI TIGERS
Xavier Delgado (OT) - Deer Valley
MISSOURI S&T MINERS
Ryan Langford (TE) - O'Connor
MONTANA GRIZZLIES
Sean Anderson (OT) - Verrado
MOUNT ST. JOSEPH LIONS
Joseph Perez (QB) - Buckeye
NAVY MIDSHIPMEN
James Stagg (TE) - Desert Vista
NEVADA WOLF PACK
Josiah Bradley (S) - Saguaro
Giovanni Miranda (TE/LB) - Saguaro
NEW MEXICO STATE AGGIES
Kai Golden (DT) - Marana Mountain View
Sky Hinojosa (WR) - Mountain Pointe (walk-on)
Grant Mileski (TE) - Horizon
Isaiah Mursalat (OT) - Horizon
Justin Segura (DT) - Horizon
Max Wilhite (C) - Desert Edge
Austin Young (OT) - Desert Edge
NORTHERN ARIZONA LUMBERJACKS
Jake Ayala (TE) - Queen Creek (walk-on)
Kaiden Baxter (OG) - Perry (walk-on)
Heath Beemiller (QB) - Ironwood Ridge
John Clark (DT) - Liberty
Larry Davis (LB) - Desert Vista
Erik DiMaria (FB) - Brophy (walk-on)
Detrick Gammage Jr. (DE) - Chandler (walk-on)
Brogan Heath (OT) - Williams Field
Bric Hudnutt (TE) - Paradise Valley
Jayden Lee (OT) - Campo Verde
Ricky Manning (FS) - Notre Dame
Riley Pagel (P) - Red Mountain (walk-on)
Jason Pisano (LB) - Yuma Catholic
Chris Rogers (OT) - Youngker (walk-on)
Harmon Shacklette (OG) - Northwest Christian (walk-on)
Tate Speaker (TE) - Perry
Jackson Vaught (DT) - Williams Field
Jacob Veach (K) - Pinnacle (walk-on)
NORTHWESTERN (IOWA) RED RAIDERS
Jared Gerdes (OT) - Basha
NORTHWESTERN WILDCATS
Drake Anderson (RB) - Chandler
OHIO STATE BUCKEYES
Luke Donovan (SS) - Desert Mountain (walk-on)
OREGON DUCKS
Tyler Shough (QB) - Hamilton
OTTAWA SPIRIT
Keauntre Ayers (C) - Westview
Dylan Bean (DE) - Skyline
Adam Berthelot (DT) - Combs
Elijah Boyd-Volakis (OT) - Florence
Isaiah Briggs (RB) - Glendale
Matthew Brown (LB) - Northwest Christian
Matthew Campbell (OG) - Skyline
Vincent Corral (DT) - Perry
Craig Dennis (LB) - Sunrise Mountain
Edward Donaldson (LB/SS) - Maricopa
Caleb Easley (WR) - San Tan Charter School
Tom Ferington (DE) - Fountain Hills
Scotty Finnerty (WR) - Bagdad
Nick France (OL/DL) - St. Mary's
Moises Guevara (C) - Mesa
Mike Hill (LB) - Sierra Linda
Joshua Lee (LB) - Basha
Austin Lloyd (OL/DL) - Fountain Hills
Stevie Maddox (WR) - Tempe
Javier Meza (OL) - Cesar Chavez
Matthew Moore (OG) - Trivium Prep
Scotty Nixon (RB) - Shadow Ridge
Kevon Owens (CB) - Williams Field
Rocky Perez (RB) - Desert Edge
Baylen Redfern (OG) - Maricopa
Jakob Redford (LB) - American Leadership
Carlos Ritchie (CB) - Cesar Chavez
Adrian Rivera (OG) - Mesa
Michael Robinson (RB) - American Leadership
Rodney Rogers II (CB) - Cienega
Isaiah Romero (LB) - Sunnyside
Angel Ruiz (WR) - Ottawa
Zion Saole (DT) - Maricopa
Brian Strobel (LB) - Skyline
Alay'Jon Tamplin (NG) - McClintock
Bobby Tomerlin (LB) - Desert Ridge
Sekou Tyler (DB) - Goldwater
Anthony Van Dezor (WR) - Sedona Red Rock
D'Montae Williams (WR) - Vista Grande
Gabe Williams (DE) - Red Mountain
PRESENTATION SAINTS
Robert Eblen (LB) - Willow Canyon
PRINCETON TIGERS
Luke Aschenbrand (OG/DT) - Pinnacle
PURDUE BOILERMAKERS
Jack Plummer (QB) - Gilbert
REDLANDS BULLDOGS
Jonah Brownell (DT) - Horizon
John Waters (WR) - Brophy
RICE OWLS
Campbell Riddle (LS) - Centennial (walk-on)
RIPON RED HAWKS
Jett Campbell (RB) - Basha
Tucker Parrish (SS) - Pinnacle
Dylan Stevenson (CB) - Pinnacle
ROCKY MOUNTAIN BATTLIN' BEARS
Domonick Amendolara (CB) - Gilbert
Caden Bethel (WR) - Desert Ridge
Stason Makaila (C) - Hamilton
Colin Maslin (DT) - Hamilton
Kayden Scatena (OT) - Hamilton
Cooper Stauss (OT) - Desert Ridge
Ian Torrez (DT) - Hamilton
Austin Werbelow (CB) - Desert Vista
Jacori Wooten (K) - Queen Creek
ST. SCHOLASTICA SAINTS
Angelo Johnson (LB/DE) - Imagine Prep Superstition
Joseph Ontiveros (WR) - Imagine Prep Superstition
Valentin Ontiveros (QB) - Imagine Prep Superstition
SAN DIEGO TOREROS
Vincent Elrod (LB) - Notre Dame
Derek Kline (QB) - Desert Vista
Tim Lockhart (WR) - Hamilton
James Reed (TE) - Boulder Creek
SAN DIEGO STATE AZTECS
Zidane Thomas (RB) - Centennial
SIMON FRASER CLAN
Harrison Copoloff (TE) - Notre Dame
SIOUX FALLS COUGARS
Ja'tai Jenkins (RB) - Verrado
Christian Medeiros (DT) - Desert Ridge
SOUTH DAKOTA SCHOOL OF MINES HARDROCKERS
Gavin Chaddock (LB) - Sunrise Mountain
Adrian Eastman (SS) - Higley
Hunter Jaskey (DE) - Boulder Creek
Kendahl Johnson (CB) - O'Connor
SOUTH DAKOTA STATE JACKRABBITS
Clayton Hooper (CB) - Hamilton (grayshirt)
SOUTHERN UTAH THUNDERBIRDS
Draycen Hall (RB) - Higley
Lance Lawson (RB/WR) - Red Mountain
Tanner McLachlan (WR) - American Leadership
Aaron Romero (DT) - Skyline
Gerald Wilbon (CB) - Red Mountain
SOUTHERN VIRGINIA KNIGHTS
Delton Jackson (LB) - Red Mountain
Nick Scow (FB/TE) - Red Mountain
Powell Skiba (DE) - Benjamin Franklin
Apolo Ta'ase (DT) - Desert Ridge
Ethan Winfield (TE) - Desert Ridge
STANFORD CARDINAL
Donjae Logan (CB) - Desert Ridge
UCLA BRUINS
Kenny Churchwell (SS) - Mountain Pointe
UNLV REBELS
Bryce Jackson (CB) - Chandler
Chris Manoa (DT) - Chandler
USC TROJANS
Zach Wilson (WR) - Saguaro (walk-on)
UTAH UTES
Solomon Enis (WR) - North Canyon
Tre O'Guinn (LB) - North Canyon (walk-on)
UTEP MINERS
Ryan Warren (LS) - Perry
VALLEY CITY STATE VIKINGS
Christian Alvarado (LB) - Valley Vista
Avien Romero (OL) - Cibola
VANDERBILT COMMODORES
Kyle White (DE) - Notre Dame (walk-on)
WAGNER SEAHAWKS
Shelton Mathis (LB) - Florence
WASHBURN ICHABODS
Mason Honne (C) - Mountain Pointe
WASHINGTON HUSKIES
Dominique Hampton (CB) - Centennial
Matteo Mele (OT) - Salpointe
WEBER STATE WILDCATS
Kris Jackson (RB) - Mesa
Kylan Weisser (QB) - Notre Dame
WILLAMETTE BEARCATS
Raymond Hixon (FB) - St. Mary's
WILLIAM PENN STATESMEN
Jaden Curtis (DE) - Copper Canyon
Brian Davison II (LB) - Millennium
Marlon Noralez (RB) - South Mountain