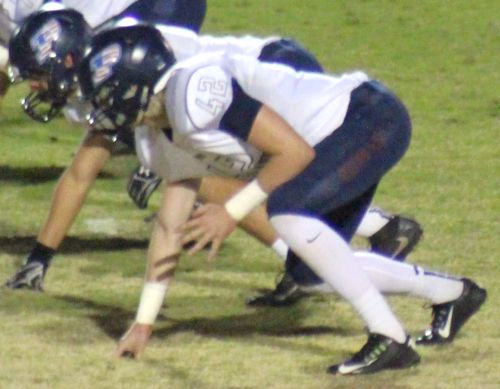 HS Football Recruiting: Class of 2017
A look at the signings for the current class of seniors. To follow along with the Class of 2018, go to www.gridironarizona.bravesites.com/recruiting.
UPDATED: 8/10/17
Colleges across the nation continue to take notice of the prep talent in Arizona more and more over the past few seasons. More than 240 players from the Class of 2017 signed with four-year schools since February to continue playing football, and receive an education.
And here they are:

CLASS OF 2017 SIGNINGS
ADAMS STATE GRIZZLIES
Becca Longo (K) - Basha
Daniel Woodis (FB) - Desert Vista
AIR FORCE FALCONS
Tre' Bugg (CB) - Williams Field
DeAndre Hughes (CB) - Tempe
Sam Pepper (LB) - Chandler
Nick Thomas (QB) - Desert Vista
Parker Walton (LB) - Chaparral
ALLEGHENY GATORS
Scott Albright (C) - Apache Junction
Nazareth Greer (QB) - Marcos de Niza
Tyreke Humphrey (TE) - Fairfax
Donte Richardson (LB) - Verrado
James Valentine (OT) - Kellis
ARIZONA WILDCATS
Tyrell Aponte (OT) - Peoria (walk-on)
Dante Blissit (DE) - Desert Edge (walk-on)
Drew Dixon (WR) - Sabino
Rourke Freeburg (SS) - Desert Mountain (walk-on)
Tyson Gardner (OT) - Queen Creek (walk-on)
Bryce Gilbert (TE) - Higley
Jalen Harris (DE) - Desert Ridge
DJ Hinton (RB) - Tucson (blueshirt)
My-King Johnson (DE) - Tempe
Isaiah Lovett (WR) - Marana Mountain View (walk-on)
Noah Pittenger (RB) - Brophy (walk-on)
Dakota Poe (RB) - Cienega (walk-on)
Rhett Rodriguez (QB) - Catalina Foothills
Ken Samson (LB) - Ironwood Ridge (walk-on)
Rexx Tessler (LB) - Brophy (walk-on)
ARIZONA CHRISTIAN FIRESTORM
Trey Anderson (WR) - Sequoia Pathway
Khristopher Broom (CB) - Desert Ridge
Parker Brubaker (K) - Ironwood
Kaiden Chong (SS) - Tempe
Tyrese Cunningham (WR) - Kellis
Anthony Frausto (OG) - Desert View
Maverick Gamez (QB) - Verrado
Derick Hamen (DE) - Thunderbird
Tharon Hill (NG) - Campo Verde
Michael Lopez (FS) - Horizon
Daniel Meador (QB) - St. Mary's
Herman Manning (DB) - Desert Edge
Zane McKinney (LB) - Williams Field
Jacob Moore (LB) - Sunrise Mountain
Josh Moyer (LB) - Desert Ridge
Seau Nguyen (C) - Perry
Marcus Powell (LB) - Perry
J'Carie Redmond (FB) - Carl Hayden
Simeon Rivera (OT) - Dysart
Daryl Stagger (WR) - Westview
Darion Stewart (DE) - St. Mary's
Kyle Swann (QB) - Morenci
Angel Torres (OT) - Tolleson
Matt Totah (OG) - Verrado
Isaiah Veal (WR) - Peoria
Zachary Watson (DE) - Campo Verde
ARIZONA STATE SUN DEVILS
Jorden Blake (FS) - St. Mary's (walk-on)
Kyle Breed (OT) - Ironwood Ridge (walk-on)
Michael Gombert, Jr. (TE) - Cactus Shadows (walk-on)
Curtis Hodges (WR) - Mesa Mountain View
K.J. Jarrell (FS) - Saguaro
Tyler Johnson (WR) - Highland
Ryan Kelley (QB) - Basha
Anthony Nicastro (DE) - Marcos de Niza (walk-on)
Joe Reeves (LS) - Verrado (walk-on)
Brandon Ruiz (K) - Williams Field
Trevor Russell (WR) - Casa Grande (walk-on)
Kyle Soelle (LB) - Saguaro
Corey Stephens (OG) - Saguaro
Mark Walton (TE) - Cibola
Cristian Zendejas (K) - Perry (walk-on)
AVILA EAGLES
Tristan Askan (QB) - Mesa Mountain View
AZUSA PACIFIC COUGARS
Aaron Marquardt (DE) - Prescott
BEMIDJI STATE BEAVERS
Zach Southwick (OT) - Moon Valley
BENEDICTINE (ILL.) EAGLES
James Stover (QB) - Yuma Catholic
BETHANY SWEDES
Javier Chavez (C) - Sequoia Pathway
Joaquin Diaz (FB) - Cienega
BLACK HILLS STATE YELLOW JACKETS
Tyler Hammons (QB) - Cienega
Jordan Pace (WR) - Shadow Mountain
Jacob Parks (P) - Centennial
Gage Vindiola (TE) - Queen Creek
BOISE STATE BRONCOS
Chase Cord (QB) - Sunrise Mountain
BRIGHAM YOUNG COUGARS
Donovan Hanna (TE) - American Leadership
CENTRAL DUTCH
Austin Ahumad (QB) - Sahuarita
Evan Helitzer (C) - Cactus
Andrew Magri (QB) - Liberty
Travis Wagner (OT) - Mesa Mountain View
Wayne Wilridge (WR) - Tombstone
CHADRON STATE EAGLES
Karl McIntyre (SS) - Basha
COLORADO BUFFALOES
Jared Poplawski (TE) - Saguaro
COLORADO MESA MAVERICKS
Logan Bayus (DE) - O'Connor
Parker Galipeau (OT) - Cienega
Aaron Howard (QB/WR) - Chandler
COLORADO SCHOOL OF MINES OREDIGGERS
Tyler Alexander (CB) - Hamilton
Edwin Lovett (WR) - Pusch Ridge
COLUMBIA LIONS
Andrew Nichols (DE/TE) - Centennial
CONCORDIA COLLEGE (MINN.) COBBERS
Josh Sheldon (C) -Liberty
John Voorhees (CB) - Pusch Ridge
CONCORDIA UNIV. (MINN.) GOLDEN BEARS
Devin Johnson (LB) - Marana Mountain View
Neal Kallen (DE) - Perry
CONCORDIA UNIV. (NEB.) BULLDOGS
Keegan Hornung (OG) - Williams Field
CONCORDIA UNIV. (WISC.) FALCONS
Adam Taylor (OG) - Cactus
CROWN STORM
Corey Huard (S) - Prescott
CSU-PUEBLO THUNDERWOLVES
Max Fine (WR) - Williams Field
Connor Goetz (OT) - Desert Ridge
Tony Rodriguez (DE) - Shadow Mountain
Sebastian Spencer (SB) - Marana Mountain View
Malachi Wilkins (DE) - Estrella Foothills
DAKOTA STATE TROJANS
Jacob Neal (WR) - Verrado
DOANE TIGERS
Caleb Greene (LB) - Liberty
DUBUQUE SPARTANS
Danny Herrera (QB) - San Tan Foothills
FORT LEWIS SKYHAWKS
Will Phillips (OT) - Cactus Shadows
HAMLINE PIPERS
Adrian Cracolici (CB) - Verrado
HASTINGS BRONCOS
Cole Achtzehn (OG) - Desert Mountain
Christopher Crescione (WR) - Higley
Mason Crossland (QB) - Higley
Christian Deltenre (LB) - Higley
HAWAII RAINBOW WARRIORS
Donovan Dalton (CB) - Saguaro
Micah Vanterpool (OT) - Central
IDAHO VANDALS
Dalton Cash (TE) - Pinnacle (grayshirt)
Roshaun Johnson (RB) - Desert Edge

LAKE FOREST FORESTERS
Jordan Briggs (CB) - Brophy
Kevin Duarte (OT) - Skyline
Matt Leonard (OT) - Brophy
Caleb Moore (QB) - Brophy
Trysten Reeder (WR) - Pinnacle
Ben Trujillo (OT) - Skyline
LANGSTON LIONS
Devin Dourisseau (QB) - La Joya
DaRon Stevenson (CB) - Fairfax
LAWRENCE TECHNOLOGICAL BLUE DEVILS
Ian Cudney (DE) - Chino Valley
Nick Spohn (WR) - Pinnacle
LINDENWOOD LIONS
Koby Charles (LB) - Casa Grande
LIU POST PIONEERS
Austin Nuessle (QB) - Desert Mountain
LSU TIGERS
CJ Jarmon (WR) - Hamilton (grayshirt)
MARY MARAUDERS
Trevor Maxwell (RB) - Higley
Tazz Middleton (DB) - Apollo
MEMPHIS TIGERS
Josiah Perry (OG) - Chandler (walk-on)
MINNESOTA CROOKSTON GOLDEN EAGLES
Bo Addicott (CB) - Sunrise Mountain
Elizsha Bear-Encinas (OT) - Vista Grande
DeAndre Ector (CB) - Williams Field
Jordan Frieberg (DE) - Willow Canyon
Shavez Hawkins (RB) - Williams Field
Brendan Kinnee (LB) - Willow Canyon
Reyes Lara (QB) - Valley Vista
Ty Love (FS) - Sunrise Mountain
MISSOURI BAPTIST SPARTANS
LaRon Cook, Jr. (CB) - Marana Mountain View
MISSOURI VALLEY VIKINGS
Nagey Abugour (DT) - Kellis
Travis Fusich (LB) - Kellis
Jake Morales (LB) - Bradshaw Mountain
Adrian Muntinga (LB) - Kofa
MONTANA STATE-NORTHERN NORTHERN LIGHTS
Dylan Kelley (SS) - Red Mountain
Jace Koester (RB) - Queen Creek
Adrian Leos (LB) - Vista Grande
Cody Rappoport (WR) - Red Mountain
NEBRASKA CORNHUSKERS
Kade Warner (WR) - Desert Mountain (walk-on)
NEW MEXICO LOBOS
Daniel Peabody (TE/DE) - Ironwood Ridge
NORTHERN ARIZONA LUMBERJACKS
Brandon Boyce (DT) - Saguaro
Jermiah Boyd (RB) - American Leadership (walk-on)
Chance Brewington (WR) - Hamilton
Terrell Brown (WR) - Basha
Seth Clem (DL) - Marana (walk-on)
Tony DeCozio (K) - Desert Ridge
Parker Henley (LB) - Chandler (walk-on)
Matthew Kempton (TE) - Brophy
Jonas Leader (OT) - Canyon del Oro
Connor Leavens (QB) - Marana (walk-on)
Max Michalczik (TE) - Catalina Foothills
Eddie Rivas (OG) - Mountain Pointe
Jared Sheeley (DE) - Canyon del Oro (walk-on)
Austin Shirley (DE) - Saguaro (walk-on)
Justis Stokes (WR) - Williams Field
NORTHERN MICHIGAN WILDCATS
Dallas Dixon (WR/DB) - Tolleson
NORTHERN STATE WOLVES
Zach Bohnenkamp (CB) - Canyon del Oro
OCCIDENTAL TIGERS
Cameron Yowell (QB) - Notre Dame
OHIO WESLEYAN BATTLING BISHOPS
Tommy Baden (LB) - Ironwood Ridge
OREGON DUCKS
Johnny Johnson (WR) - Chandler
OREGON STATE BEAVERS
Kolby Taylor (WR) - Chandler
OTTAWA SPIRIT
Addison Brooks (SS) - Liberty
Hunter Compise (WR) - Liberty
Jackson Crean (FB) - Liberty
Cam'Ron Davis (WR) - Moon Valley
Josh Fisher (QB) - Chino Valley
TJ Florence (WR) - Flowing Wells
William Gardner (DE) - Westwood
Andrew Granillo (CB) - Chino Valley
Jeffrey Jimenez (WR) - Coronado
Terrence Lockett (DT) - Coronado
Niko Madlangbayan (CB) - Ironwood Ridge
Kevin Meza (RB) - Buena
Sam Wilson (LB) - Cienega
PACIFIC BOXERS
Eric Estrada (FS) - Safford
Mykhael Horton (DE) - Paradise Valley
RJ Okonowski (OG) - Queen Creek
PORTLAND STATE VIKINGS
Beau Kelly (WR) - Chaparral
PRESENTATION SAINTS
Tim Martin (QB) - Corona del Sol
REDLANDS BULLDOGS
Jake Means (WR) - Lake Havasu
ROCKY MOUNTAIN BATTLIN' BEARS
Jacob Barnard (C) - Hamilton
Jaryd McCray (OT) - Hamilton
SAINT ANSELM HAWKS
Kaden Riforgiate (LB) - Corona del Sol
SAN DIEGO TOREROS
Myles Wilson (DE) - Desert Vista
SAN JOSE STATE SPARTANS
Tyler Stevens (OG) - Hamilton
SIMPSON STORM
Austin Helt (QB) - Corona del Sol
SOUTH DAKOTA SCHOOL OF MINES HARDROCKERS
Ezzard Carroll (QB) - Fairfax
Kobey Rushton (OL) - Bradshaw Mountain
Christian Singleton (QB) - Flagstaff
Gavin Smith (S) - Valley Vista
Jimmy Stewart (S) - Catalina Foothills
SOUTH DAKOTA STATE JACKRABBITS
Daniel Callender (DE) - Yuma Catholic
Skyler Cavanaugh (TE) - Cienega
SOUTHERN UTAH THUNDERBIRDS
Bryan Beckon (WR) - Catalina Foothills
Lelon Dillard (RB) - Desert Vista
Ryan Johnson (RB) - Chandler
SOUTHERN VIRGINIA KNIGHTS
Roberto Baeza (QB) - Mesa
Sam Covert (DT) - Cactus Shadows
Skylar Johnson (QB) - Combs
ST. JOHN FISHER CARDINALS
Luke Forte (OG) - Notre Dame
STANFORD CARDINAL
Noah Williams (CB) - Brophy (walk-on)
STERLING WARRIORS
Nick Othon (WR) - Bradshaw Mountain
STETSON HATTERS
Andrew Nadolski (OT) - Notre Dame
TABOR BLUEJAYS
Jacob Ellis (FB/LB) - Estrella Foothills
TULSA GOLDEN HURRICANE
Adam Higuera (LS) - Perry
UC DAVIS AGGIES
Tehran Thomas (QB) - Desert Edge
UCLA BRUINS
Odua Isibor (DE) - St. Mary's
Sean Seawards (OG) - Saguaro
Jax Wacaser (OT) - Saguaro
UNLV REBELS
Riley Erickson (K) - Desert Vista (walk-on)
Kolo Uasike (DT) - Skyline
USC TROJANS
Austin Jackson (OT) - North Canyon
Isaiah Pola-Mao (FS) - Mountain Pointe
UTAH UTES
T.J. Green (RB) - Chandler
UTAH STATE AGGIES
Nami Tuitu'u (DE) - Mesa
VALLEY CITY STATE VIKINGS
Jaylen Barnes (RB) - Yuma Catholic
VANDERBILT COMMODORES
Alexander Maxey (LS) - Pinnacle (walk-on)
WABASH LITTLE GIANTS
Darique Williams (RB) - Agua Fria
WASHBURN ICHABODS
Harold Colbert (OT) - Chandler
Jaaron Taylor (NG) - Chandler
WASHINGTON STATE COUGARS
Jonathan Nathaniel (OT) - Basha
WAYNE STATE WILDCATS
Tyler McLaughlin (CB) - Queen Creek
Dallan Taylor (OT) - Liberty
WEBER STATE WILDCATS
Creston Cooledge (OT) - Valley Vista
Preston Smith (S) - Mesquite
WESTERN NEW MEXICO MUSTANGS
David Apodaca (DT) - Ironwood Ridge
Julian Botello (K) - Deer Valley
Ben Collier (CB) - Valley Vista
Vodrey Gates (WR) - Valley Vista
Mike Lopez (CB) - Ironwood Ridge
WILLAMETTE BEARCATS
Matt Fick (OG) - Corona del Sol
WILLIAM PENN STATESMEN
Kevin Brown (OT) - Winslow
WISCONSIN BADGERS
Adam Bay (LS) - Desert Ridge
WISCONSIN-LA CROSSE EAGLES
Alex Richardson (OT) - Boulder Creek