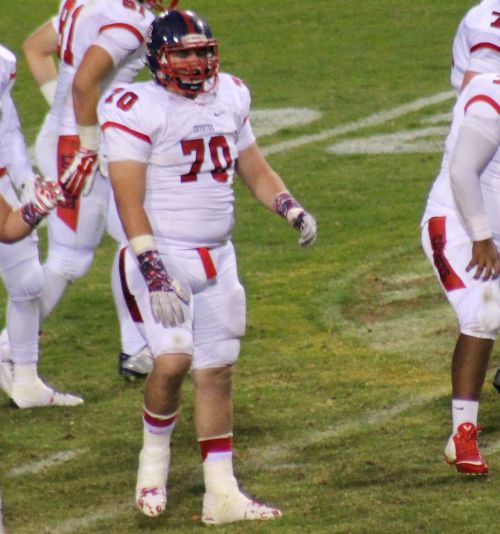 Coyotes now with top dogs in D-I

State champion OG Bailey leads Centennial in new challenge

WEEKLY BLOG: 3/1/15
You can break the first 23 years of Centennial football into two eras.

It begins with 13 seasons at the Class 4A level (1992-2004). The Coyotes didn't become a West Valley powerhouse overnight. The inaugural '92 team lost games to Coronado, Kingman, and Flagstaff en route to a 2-8 season. It took four years for Centennial to make the playoffs and 12 years before the Coyotes advanced a round in the postseason.

In 2005, the Arizona Interscholastic Association (AIA) split 5A and 4A into two separate classifications each. Centennial was placed into Class 5A-II (which would eventually become Division II). In 10 years at that level, the Coyotes racked up an unbelievable record of 122-15. Centennial had double-digit win totals in every season. The gold balls started making their way to Peoria as well. The Coyotes made seven trips to the title game and took home the championship four times (including last November).

So, as we peek ahead to the 2015 season, it begins a third era in CeHS history as the Coyotes were placed in the state's highest level - Division I.

The new group of competition for Centennial stems from the formula implemented by the AIA in January to position schools for realignment. It begins by looking at enrollment. With 2,115 students on October 1, CeHS was given a designation of Division II enrollment (ranked 44th in the state). Then, the formula looked at a combination of free and reduced lunch (35% for Centennial) and success over the years of 2008-2013. The "success" portion throws out the best two and worst two for CeHS and ends up using the 2010 and 2012 seasons. Both were 12-2 campaigns that ended with losses in the state finals. The formula gave Centennial a Divison I designation (and No. 11 ranking). Because the formula is higher than the enrollment number, Centennial was moved up one level and placed in D-I.

One constant throughout the 23 years of Centennial football has been head coach Richard Taylor. The longtime mentor to Coyote players is just two wins shy of 200 victories in his CeHS career (198-74-3). He has also been accustomed to enrollment being used to sort the schools as that had been the rule until 2015.

"That's something we really don't have any control over," Taylor said of the placing by the AIA. "We will be among the smallest enrollments (in Division I)."

Indeed, D-I newcomers Centennial and Chaparral (2,081 students) are the smallest schools in the state's highest class. At the other end, Hamilton (3,716) and Red Mountain (3,401) have the largest student bodies in the division.

Like many schools over the past month, Centennial filed an appeal for its placing and attempted to go back to Division II. The arguments included the improbability of growth for the school as it is "landlocked" with other district schools surrounding it. Centennial also has a smaller number of paid coaches compared to other D-I programs. Just four coaches are on the payroll for the Coyotes (including Taylor). The daily schedule for students does not include a football class as other areas have. Also the facilities are a little on the short end, as is the JV practice field (just 75 yards long X 48 yards wide).

Those arguments were given to the Football Board at the AIA and Centennial's request was denied unanimously. Among the schools that were Division I with larger enrollments, Corona del Sol (11 % free/reduced lunch), Gilbert (25%), Millennium (27%), and O'Connor (15%) were all given Division II placements via the formula.

"Rewarding mediocrity and punishing being excellent," Taylor said of the way the new formula impacted teams at the highest level. "I think the fairest way is just by population."

One figure that was not used in the formula is numbers within the entire program. Remember, all three levels play at the level designated by the AIA. A few years ago, Centennial would routinely have close to 100 in the freshman program. Taylor said last season, the Coyotes had their smallest Frosh group at just 47.

The other ramification of all the appeals and the formula was the reduction of teams in Division I from 29 to just 17. With the bottom teams now dropped down, 15 of the 17 made the playoffs last season. When Centennial captured the state title last season, it was in a division with 43 schools.

"It's kind of hard to say you're the state champ with just 17," Taylor said.

Before we lament the Coyotes' situation any further, let's look at one of the things they have done consistently over the past decade - beat Division I schools.

In that time, Centennial has recorded non-section wins over Mountain View, Desert Vista, Hamilton, Desert Ridge, Chandler, Brophy, and Red Mountain. The win over Hamilton (in 2008) was against a Huskies' team that was 25-1 over its past 26 games. Following the 35-16 defeat to CeHS, Hamilton went on a 53-game winning streak.

Last year, Centennial played all four of its freedom games against Division I competition losing games to eventual D-I champion Chandler (by 4) and Basha (by 10). The Coyotes defeated Brophy and Desert Vista.

Looking ahead to the upcoming season, the offensive line seems to be the strength of the team with guards Marshal Nathe and Steven Bailey maintaining control in the trenches. Both appear to be future Division I (college) recruits.

"Traditionally, we have been pretty good on the offensive line," Taylor said. "We do have some good offensive linemen coming back."

One player Centennial does not have coming back is All-State performer Dedrick Young, who has already enrolled at Nebraska. He played linebacker and running back for the Coyotes and rushed for 1,557 yards and 19 touchdowns in his senior year. Replacements in the backfield will come from a group of players that had carries last season including Quentin Gomez, Taylor Fiame, Isaac Haney, and Marcus Wakeham.

Behind center, the Coyotes return dual-threat QB Isaac Steele. As a junior, he was accurate with 27 touchdown passes and just three interceptions. He can also take off and run with it as he had 558 yards and six scores.

Fiame and Wakeham are candidates to play linebacker and Gomez is the team's starting strong safety. Last season, Gomez scored four touchdowns rushing and also recorded four defensive TDs (three interception returns and fumble return).

Another pair of juniors that had big years were linebacker Bozton Sanders, who has great size at 6-0, 240 pounds and defensive end Chris Jules. Sanders led the Coyotes with 107 tackles and had four sacks. Jules had 11 sacks including four in the defensive shutdown of Liberty in the title game.

Taylor said by the looks of things right now, there will be some two-way players on this season's squad. But, he also added that despite being reigning state champions, the boys are going about their business right now in the offseason and are being productive.

"I think last year's team worked extremely hard and I'm seeing that again now this year," Taylor said. "They know the move to Division I is going to require more out of all of us and they are working to that end."

Initial sections come out this Wednesday and it is likely that the Coyotes will be part of a northern region that includes Liberty, Boulder Creek, Horizon, Pinnacle, and Chaparral.

PHOTO CAPTION: Centennial junior offensive guard Steven Bailey gets ready to take his spot on the line during last November's Division II state championship game. Bailey was part of an O-line that helped the Coyotes rush for 228 yards per game and pound out 40 touchdowns on the ground. Bailey was named to the First-Team All-State for Division II as Centennial won its fourth title in school history.

---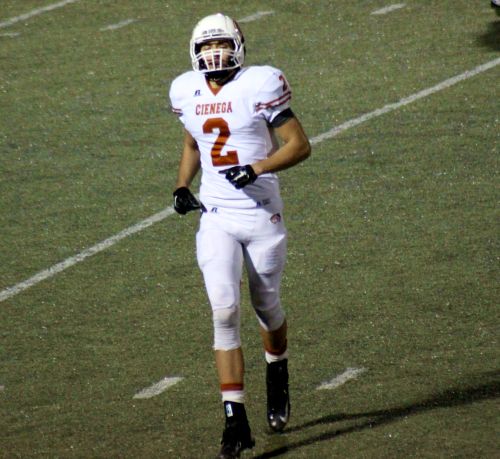 The realignment disaster of 2015

Cienega appeals down to Division II, but should it have needed to?

WEEKLY BLOG: 2/22/15
Every two years, the Arizona Interscholastic Association (AIA) sorts its members (the schools) into divisions. For many years, enrollment was the sole criterion in doing this. The numbers were pulled for how many students attended each of the high schools, lines were drawn, and that's what level a team played at. In 2013, a change was made that allowed schools to petition down if it felt it wasn't able to evenly compete in the division it was placed in. These appeals were heard and determinations were made. I thought the 2013 realignment went well and improvements were made regarding the sizes of sections (made smaller) and the amounts of freedom games (made larger).

But now, as the calendar has turned to 2015, I don't feel the same way about how this one has transpired.

For a look at where the Division I and II teams currently sit in the new realignment, click HERE.

It begins with a newsletter put out by the AIA in October. At that time, the schedule was written as follows:

Initial Divisions are to be presented at the October 20 AIA Executive Board meeting. Upon approval, they will be posted online by noon on Tuesday, October 21. The Division appeals will be held the week of November 3.

The schedule also had the information that the divisions would be finalized in the November meeting.

Here we sit on February 22, and we are still a few days away from this happening.

So, how did we get here?

In the October 20 meeting, instead of releasing the divisions, it was proposed that participation numbers should be used in determining the placement of teams instead of enrollment. The Initial Division announcement was then tabled so more research could occur on this.

As you can imagine, many coaches were against this idea and it was feared that coaches would make more cuts and lessen the amount of participants for fear of having their school moved up to a higher level.

In the November meeting, it was announced that a new formula would be used to place the teams in divisions. The formula would include enrollment, percentage of students eligible for free/reduced lunch (FRL), and prior success of the team.

Schools would still be permitted to appeal where they were placed by the formula.

I'm not going about this one alone today. I've sought out the advice of former Cienega head coach Nemer Hassey, who stepped down from his head coaching post on December 1 to become the principal of CHS. He was the first teacher hired for Cienega when it was under construction in 2001. Hassey has also been the school's only football coach and had a record of 116-38 with trips to the semifinals in four of the past six years. In that time, he guided the Bobcats from Class 4A to 4A-I (Division III) to Division II.

"The problem with the realignment is that it seemed like the new formula was somewhat rushed and not communicated with the membership," Hassey said in an e-mail interview.

Keep in mind in November, it was only said that these factors would be used. No one knew how.

The December meeting came and went with no new news on the realignment (formula still being worked on). One thing that did come out of that was an announcement that there would be a 30-percent rule on playoff teams with a minimum of 12 for football to a maximum of 16. Since the late 1970's, there have been 16 teams in the annual postseason tournament.

In the much-anticipated monthly meeting on January 20, the Initial Divisions were revealed, but there was a huge error that was very noticeable by media and fans within minutes of the announcement. For example, McClintock, which has gone eight straight years without a winning season and went 3-7 in 2014 in Division III, was placed in Division I. The AIA insisted a day later that no errors were made. But, after a little more investigating, it was acknowledged before the end of the week that there was an error (which the AIA blamed on the mathematicians that worked on the formula). The error would be fixed and new divisions would come out the next Monday.

This was the second time in recent memory that the AIA failed to do a check-over of information before broadcasting it to everyone. Many will recall the Selection Saturday debacle of 2013 when playoff teams were announced before the calculations for Week 10 were completed.

So, brushing that aside, we will move on with the corrected announcement of the Initial Divisions on January 26. On that list, which most observers agree was much more accurate than the first, there were 22 teams listed in Division I and 50 in Division II. McClintock was back in Division III, where it belonged.

All of the content of the formula was listed in a document, but not easily understood. In layman terms, teams were given a numerical placement by enrollment into a division, then FRL and a look at the team's success was used to give a formula ranking. If the formula ranking was higher than the enrollment one, a team was moved up one level. If it was lower, a team was moved down one level.

"I do not like free and reduced lunch being a factor in the formula," Hassey said. "I do like having previous success being part of it. Free and reduced lunch should only be used in the appeal process after the formula has selected the divisions."

Ah yes, the appeals process. Well, of the 72 schools initially placed in Divisions I & II, a whopping 35 of them (48.6 percent) didn't like where they were placed and filed appeals.

These appeals were heard the first week of February and of the 35 schools that appealed, 25 of them were successful at moving. To no one's surprise, 23 of those 25 were teams that wanted to move down.

One of those teams was Cienega. Cienega is in Pima County and about 25 miles south of Tucson. The Bobcats were one of two Southern Arizona teams placed in Division I (other was Ironwood Ridge).

Under the rules that the AIA had for determining divisions first, then sections, and keeping sections solely with teams in those divisions, this one was a no-brainer. Of course Cienega and Ironwood Ridge would file appeals, have them heard, and then be granted a move down to Division II. But, why wasn't this looked at instead of simply following the black-and-white of the formula?

An argument can certainly be made for Cienega to be in Division I. But, you either needed to have six schools from Southern Arizona placed in Division I so travel would not be a factor. Or, you could have done what the AIA did in 2009 and 2010. That was when sections (then called regions) consisted of schools in both Class 5A-I and Class 5A-II. For example, Mountain Ridge was in the Northwest Region, but was the only Division I school in it. The Mountain Lions played region games against the schools geographically close to it, but when the playoffs began, the Division I schools went to their tournament as did the Division II ones.

But, neither one of those options were on the table, so Cienega and Ironwood Ridge were moved downward.

"There was no way Cienega and Ironwood Ridge could be in Division I for geography and transportation costs purposes," Hassey said.

The appeals that were made the first week of February came either before the football review committee or were done through a placement appeals board.

If a school wasn't pleased with the outcome of that appeal, it could go before the Executive Board last Tuesday. Due to the large number of these statewide and classwide, many were moved to next Wednesday.

One that was granted by the Executive Board last week was Desert Edge. This was a very curious one. Desert Edge has done very well in its four years in Division III going 42-8 and playing in a state championship. When DEHS tried to appeal to the football board, it was denied by a vote of 6-1. However, when the school appealed to the Executive Board (admittedly a non-football group), the appeal was approved unanimously 6-0.

Unanimous was the word of the day when it came to appeals to the Executive Board last week. In all sports in all divisions, 39 teams that were previously denied through either its sports committee or the placement appeals group were ALL approved unanimously.

Does anyone else think this undoes the work of the formula?

Desert Edge has an enrollment of 1,755 which put it in an enrollment ranking of D-II. After looking at the success rate and FRL number (which is 50 percent there), the formula also placed it in D-II. The debate team at Desert Edge must have helped with that appeal.

This week, 54 more sports teams in all divisions will have second appeals including Canyon del Oro, Paradise Valley, Peoria, Sunrise Mountain, and Tolleson. Those five schools, which are trying to move from Division II to Division III, are hoping the Executive Board wakes up on the same side of the bed as it did last Tuesday.

It should be noted that all five of the schools that want to move down to Division III lost their appeals to the football board by a combined vote of 35-8. The reason given (as was the reason to Desert Edge) for refusal was competitive history.

"The appeal process is a broken system," Hassey said. "Teams should only be able to appeal for specific reasons."

Hassey went on to say that those reasons should be as follows:

1. Geography and transportation costs.
2. Competitive history (need to be in the bottom 10 of their division for three or more years).
3. Free and reduced lunch rates.

The FRL isn't always a telling tale of a school. This is particularly true in soccer, but we'll stick with football here. Skyline, which went 11-2 last season in Division I, has an enrollment ranking of D-I. Its past history combined with a 54 percent FRL placed it in Division II. The Coyotes did not appeal to move up.

"There are examples of very good teams that have a 90 percent free and reduced lunch," Hassey said. "I do think you can use free and reduced lunch, but it needs to have a human touch in that process. Not a formula."

One important thing to note here about the past history: Nothing a team did in 2014 was accounted for in the formula! The formula looks at the MaxPreps ranking for the years 2008 to 2013, then throws out four of the six years (two high and two low) and averages the other two years together. For Skyline, this is the 2011 season (3-7) and 2012 (5-5). Nothing else mattered. Not its more recent 2013 season (6-4), or the fact that it led Hamilton 14-0 in the state semifinals before losing late 21-14.

Skyline wasn't the only playoff team to remain quiet when moved down. O'Connor, Valley Vista, and Westview competed in the Division I playoffs and were placed in Division II. In Division II, Sunnyslope and Lake Havasu were placed in Division III despite competing in the postseason in 2014.

Kudos here to Highland and St. Mary's. Highland has competed at the top level every year since 1995 and couldn't believe it was moved down, so the Hawks appealed and went back up. St. Mary's, a private school, was placed in Division IV, but wanted back up in Division II.

The bottom line of what the movement has done is shrink the top divisions. Here's a look at the combined number of Division I and II teams in the last three realignments:

2009-10: 63 schools
2011-12: 82 schools
2013-14: 72 schools
2015: 50-55 schools

Remember, if all five of the previously mentioned appeals are granted, the 2015 number will be 50. And, you will notice that it only says "2015", not "2015-17". Originally, this was to be a three-year realignment block with one-year schedules. The intent is to put Arizona on the same timeline as neighboring states to make it easier to schedule out-of-state games. However, with all the backlash that has occurred, the Executive Board is now in the process of assessing if this will be a one-year block instead. Given its glacial pace of movement in creating Initial Divisions, we might know by June.

I asked Hassey what he would do with realignment if he were named "AIA King" for a day. He gave a couple answers, one of which I agree with.

"I would have a very strict and specific appeal process," Hassey said. "The last round of appeals were out of control and there was too much freedom to appeal."

Check. Let's see the other one.

"I would add a division in football," Hassey said. "Football should have six divisions with the seventh being 8-man football. The other team sports should have five divisions (as they do now), and individual sports should be divided in three or four divisions depending on the sport."

While leaving other sports alone (just sticking to football here), I disagree with this one. It's about the only thing I take the other side against Hassey with and I did a little research.

I took a comparison with the two states closest in population to Arizona, Massachusetts and Indiana.

Arizona has six divisions including one in 8-man football. Massachusetts and Indiana don't have 8-man football, but they also have six divisions. They also have more football-playing schools.

Arizona: 231 schools
Massachusetts: 289 schools
Indiana: 317 schools

When you look at the number of teams in the top two divisions, there is also a disparity:

Arizona: 50-55 schools
Massachusetts: 66 schools
Indiana: 66 schools

The reason many (particularly those in Division III whether placed there or moving down) want an extra division is because of how small Divisions I and II are. If I were creating them, I would split the 200 schools (31 play 8-man in Division VI) as follows:

Division I: 30 schools
Division II: 40 schools
Division III: 50 schools
Division IV: 40 schools
Divison V: 40 schools

As it stands now, Division III has 58 schools and that number could climb by one if all appeals are granted this week.

Creating an extra division would also cost more money as there would be an extra tournament to run. Remember last June when the AIA sprung fee increases on schools to help address its $519,000 shortfall in the previous academic year? Which leads me back to another possible future lost source of revenue.

Remember back in that December meeting, when realignment was tabled for a month, but the number of playoff teams would decrease? What do you think happens to the money made when you eliminate four games from each of the state's two highest divisions?

The AIA collects the gate from playoff games with higher admission prices and mandatory charges to students. Awarding byes to the top four seeds eliminates what would likely be high crowds from schools that had very good seasons. Also, remember that big upset by #15 Sunnyside in last year's Division II playoffs against Ironwood Ridge? Wouldn't happen in 2015 if only 12 are allowed in.

But, that's an argument for another day. For now, we'll just have to accept our new divisional placements, work on sections (which should have much less hassle), and get to scheduling games.

Hopefully, the AIA will review the errors made in this realignment and plan more accordingly (maybe starting now) for the 2016 one.


PHOTO CAPTION: Cienega wide receiver and punter Matt Aragon gets lined up in his position in a road game from last season. The senior played both of his years on varsity in the Division located on his jersey - 2. The Bobcats went 11-2 last season and won Division II, Section 2 with a perfect 5-0 mark. Cienega will once again play in Division II in 2015 and will find out its new section opponents on March 17.

---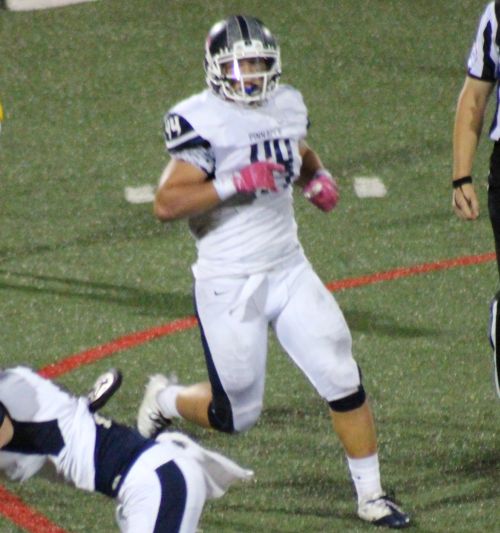 Season recap: Pinnacle

Dixon showed to be strength on both sides of ball for Pioneers as a junior

WEEKLY BLOG: 2/15/15
The 2014 Pinnacle Pioneer team returned depth at the skill positions and had perhaps more speed than it has ever had in its 15 seasons. The question mark was at running back as Josh Hoekstra had graduated and was on the roster at Arizona State.

Pinnacle was able to use those assets and find replacements where necessary as it posted a 10-win season equalling the most in school history (also achieved in 2009). And, this time, the Pioneers did it in Division I.

The Pioneers kicked off their season with a visit to east Mesa to take on Red Mountain. The game was an evenly matched battle before Pinnacle seized a 14-7 lead shortly before the half on a 13-yard touchdown run by quarterback Brian Lewerke. In the second half, PHS exhausted the Mountain Lions and came away with a 29-13 victory.

Pinnacle followed that up a week later in the home opener with a 51-7 win over Millennium. Lewerke had four touchdown passes and ran for another one. His four TDs ended up in the hands of three different receivers - Zach Cerepanya-Robinson, Cules Rose, and Adam Turner. It would mark the first of seven times that the Pioneers lit the scoreboard up with 40 or more points.

"I think it starts with a very underrated offensive line," head coach Dana Zupke said in an e-mail interview. "This was the best overall unit we've had at the school, and they were instrumental in making us as productive as we were. Lewerke and the talent at the receiving corps are much less effective if we have protection problems."

The 2-0 start set the stage for a big home game against Hamilton (also 2-0).

The must-see matchup didn't start well for Pinnacle, but it developed into an instant classic.

Pinnacle trailed 34-7 early in the third quarter, but came all the way back behind the running of junior Nick Ferrara (116 yards) and 269 yards along with three touchdown passes by Lewerke. All the while, the defense did its part with four consecutive three-and-outs. After Justin Mandrola took it in from the 6-yard line with 3:30 remaining, the Pioneers had a 35-34 advantage. It took a fourth-and-19 completion from the Huskies with a minute left to prolong their final drive. A late field goal gave Hamilton a 37-35 victory. But, the Pioneers didn't give up against an elite Division I team.

The Pioneers finished up the non-section schedule with wins over East Valley teams Basha and Mountain View. The game against the Toros was a close one, but this time Pinnacle ended up on the right side of a tight contest with a 38-31 win.

Pinnacle went a perfect 5-0 in league play to win Section 5 in 2013 and the Pioneers started the '14 season the same way with high-scoring wins over North Canyon (63-29) and O'Connor (49-37). The next week, Pinnacle topped Mountain Ridge 31-10, but it did it without its number-one quarterback.

Lewerke missed that game with a broken finger and speculation ran rampant the following week as Pinnacle prepared for a Thursday night televised game at Horizon. Both teams entered with 3-0 section marks. Lewerke practiced on Tuesday and was cleared by his doctor to play on Wednesday.

He may have been a little rusty at times completing just 10-of-24 passes, but the ones caught by his receivers were efficient. Lewerke threw for 309 yards and five touchdowns as the Pioneers continued their mastery of the the Huskies (now eight-for-eight all time). He was one of five Pinnacle players to sign with colleges earlier this month as he will play at Michigan State.

"Brian has a lot of physical tools, but his poise under pressure and his ability to extend plays really sets him apart," Zupke said. "He never had a meltdown after a mistake. He just battled through it."

In Week 10, Pinnacle made it back-to-back section titles with a 56-16 battering of Boulder Creek. Junior Dru Dixon peformed like he did all season with a rushing touchdown and playing linebacker, leading the Pioneers in tackles with 11 including a sack. For the year, Dixon rushed for eight scores and had 102 tackles with seven sacks. Zupke said the plan for Dixon's senior year is to continue playing him on offense and defense.

"He is a force on both sides of the ball," Zupke said. "You actually might see him on offense more. He is built like a big-time Divison I tailback (6-2, 230) and he has great vision."

The Pioneers - who will remain as one of the 17 in Division I - went a perfect 10-0 in Section 5 games in this two-year block. Running the table of its north-area teams added to the confidence of the team.

"I think winning consecutive section titles tells us that we expect to be in the mix and we expect to win," Zupke said. "Our belief in ourselves is very strong as a program."

In the playoffs, the 9-1 Pioneers had the No. 3 seed and hosted Highland. With a defense that forced four interceptions and returned two of them for touchdowns, combined with that lethal offense, Pinnacle set a school record with its 69-40 victory over the Hawks.

Unfortunately, the run ended in the quarterfinals against Mountain Pointe's brutal run game. The Pride rushed for 355 yards in a 56-10 victory over Pinnacle. While the Pioneers made it to the playoffs for the eighth-straight season, the team has still never been to the semifinals.

"Losing to Mountain Pointe makes us realize that we absolutely must be more disciplined on both sides of the ball against the elite teams in the state," Zupke said. "When we go back and watch our season film, we see we're making the same mistakes in our big wins that we did against Mountain Pointe. The difference is the cost of those mistakes is much greater against teams at the top."

In addition to Lewerke's inking with MSU, Rose signed with Arizona Christian. Three offensive linemen will be playing at the next level as Cole Delgado and Nick Maxey both signed with Air Force while Connor Padwe will go to Fort Lewis College in Colorado. Many were surprised that with the season Rose had (1,056 yards and 14 touchdowns), the only offer he had was with the NAIA school in Phoenix.

"I was (surprised) a bit, but he is undersized (5-9, 165)," Zupke said. "Talent-wise, there is no doubt he is a Division I player, but most schools just couldn't get over the frame."

Looking ahead, obviously Pinnacle must groom a new quarterback. Sophomore Noah Witsoe stepped in for the Mountain Ridge game, but the Pioneers largely won that one with 266 yards rushing and their defense. Ferrara (993 yards and 10 touchdowns) will return along with Dixon in the backfield. So, the expectation is Pinnacle will be back to being a run-first ground-and-pound team.

"We try to have balance every year," Zupke said. "I believe we will be a bit more of a power run and smashmouth team, but we will still be able to throw the football."

For the 2015 season, part of the shrinking of Division I included the loss of half of the Section 5 teams. Boulder Creek and Horizon are the only section opponents still at the top rung. The most likely section possibility looks to be a north-Valley one with Chaparral, Liberty, and Centennial joining the Pioneers. Certainly a more challenging one, but that's life in the new Division I.


PHOTO CAPTION: Pinnacle MLB Dru Dixon pursues a ball carrier in a road game from last October. Dixon was a First Team All-State selection at linebacker and also made the All-State Academic Team. He is that rare breed that made more than 100 tackles while also carrying a 3.5 GPA. With his size, expect him to attract college attention this May in Spring ball.

---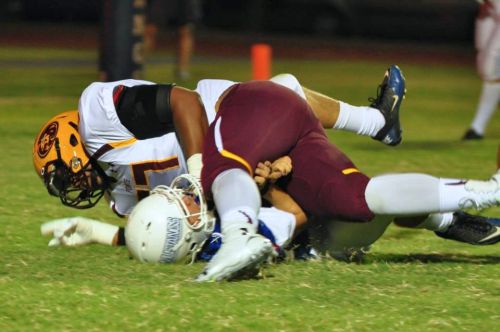 Lowering the boom on Signing Day

OT Carman one of 12 Mountain Pointe players going on to the next level

WEEKLY BLOG: 2/8/15
Mountain Pointe entered the 2014 season as the defending Division I champion for the first time. Ten starters returned for the Pride and the team strengths were in the running game, along the offensive line, and senior leadership.

While the Pride wasn't able to make it back to the title game, the team did win 10 games and advanced to the semifinals for the fifth time in head coach Norris Vaughan's six seasons at the helm.

A dozen players from Mountain Pointe will be moving on to strap on the pads once again (and continue their educations) at the collegiate level.

"We have a lot of kids that have a chance to play somewhere," Vaughan said of the depth at MPHS. "We work real hard to find kids places that will work academically."

In all, four seniors from the Pride signed with Division I schools on Wednesday, three inked with local NAIA-member Arizona Christian, four more will play juco ball at Mesa Community College, and center Collin Lambdin will be a preferred walk-on at Northern Arizona.

One of the factors Vaughan credited to Mountain Pointe's success at prolonging the careers of its players was the discipline in the program along with the quality work the coaching staff does on a daily basis.

The entire starting offensive line will be attending college (in separate places) with tackles Nick Carman and Davis Perrott going on to the Pac-12 Conference to Utah and Washington State, respectively. The guards, Clayton Dry and De'Shaun Felder are bound for MCC along with defensive tackle Bruce Hester (who also played on the OL).

How strong was the running game at Mountain Pointe last season? The team rushed for 4,062 yards (313 per game) and will have not one, but two running backs playing in Division I.

Brandyn Leonard, who led the Pride with 1,627 yards and 22 touchdowns, signed with New Mexico State while Paul Lucas (another 1,000-yard rusher) had a change of heart the night before signing day and went with Oregon State instead of his original verbal to Arizona State.

The fourth player going to Mesa Community College is nose guard Orlando Carter. Two other Pride defenders will be part of the second football team at Arizona Christian. Cornerback Vidal Daniels and defensive end Austin Pogue will be playing in the red and yellow (as will wide receiver Tyree Shivers).

A few of the Mountain Pointe players had offers, but weren't a part of the signing day festivities on Wednesday.

Running back Tyrek Cross had a couple of Division II offers, but may be attending a junior college or prep school. He has been catching up academically as a result of missing his freshman year prior to transferring to MPHS from out of state.

Middle linebacker Austin Cronen received an offer from Arizona Christian and ones from junior colleges, but is interested in studying pre-med and is looking for a school that will allow him to do that.

Quarterback Garvin Alston is gearing up for the start of baseball season and would like to play both sports in college, but other than Arizona Christian, he didn't have any other concrete offers for playing QB.

Mesa Community College had the benefit of a few Mountain Pointe alums playing for the team last season. Freshman linebacker Wesley Payne led the Thunderbirds in tackles with 130. Sophomores Garette Craig and Ciyre Simmons also played for the team, which finished 5-5 last year. Craig, a wide receiver, led the Thunderbirds with 776 yards.

In Vaughan's six seasons at Mountain Pointe, the Pride has a record of 64-14 and has elevated itself to be one of the marquee programs in the state. In the six years prior to Vaughan's arrival, MPHS was 29-32.

Arizona is an open enrollment state allowing students to play for any of the high schools in the Tempe Union High School District by having residency within. Vaughan said the team runs a four-day camp in April geared towards middle school athletes, but they don't have any involvement in selling the benefits of Mountain Pointe football.

"I assume people are attracted to winning programs," Vaughan said.

In addition to the change in status for Mountain Pointe football, another thing that is different in 2015 is the way students are recruited by colleges.

"It's changed because of the internet and texting," Vaughan said. "A lot of times, a college will be talking to a player without going through the head coach."

Looking ahead to the 2015 season, Mountain Pointe will have to replace its running game and offensive line. Some reinforcements could come from a JV team that went 6-2 last year.


MOUNTAIN POINTE SIGNEES

| | Pos | School |
| --- | --- | --- |
| Nick Carman | OT | Utah |
| Orlando Carter | NG | Mesa Community College |
| Vidal Daniels | CB | Arizona Christian |
| Clayton Dry | OG | Mesa Community College |
| De'Shaun Felder | OG | Mesa Community College |
| Bruce Hester | DT | Mesa Community College |
| Collin Lambdin | C | Northern Arizona (walk-on) |
| Brandyn Leonard | RB | New Mexico State |
| Paul Lucas | RB | Oregon State |
| Davis Perrott | OT | Washington State |
| Austin Pogue | DE | Arizona Christian |
| Tyree Shivers | WR | Arizona Christian |

PHOTO CAPTION: Mountain Pointe offensive tackle Nick Carman pancakes a defensive lineman from a road game. The 6-3, 274-pound lineman was on the Pride Varsity team for all four of his high-school years. Mountain Pointe went 42-10 during his career including the school's first Division I championship in Carman's junior season. (photo courtesy of Nick Carman)