Wolves beat Hamilton to claim title

Offensive line leads Chandler run game with 7 yards per carry, 3 touchdowns

CHAMPIONSHIP BLOG: 11/28/14
Chandler's defense stopped Hamilton on fourth down with nine minutes left in the fourth quarter of the Division I state championship on Friday night at University of Phoenix Stadium. Then, the offense took control.

Wolves' senior quarterback Bryce Perkins lined up behind center and directed Chandler to some big plays. He connected with receiver N'Keal Harry on a 23-yard pass completion. Then, he took off on a 25-yard gain up the middle on a quarterback draw, taking the ball deep into Husky territory. Perkins capped off the drive with an eight-yard run complete with a dive into the end zone to extend the Wolves' lead to two scores. Later, running back Micah Reed-Campos tacked on his second touchdown of the night to finish a 28-7 win over archrival Hamilton, earning the first state football championship for CHS since 1949 (and first since the AIA went to a playoff format in 1959).

"We knew they were going to keep pressure on the outside," Perkins said. "The middle was open."

Hamilton (12-2) playing in the title game for the seventh consecutive season, had ample chances to win the game. The Huskies had the ball inside the Chandler 20-yard line five times on the night, but came away with just seven points. Hamilton also came up with the first break in the game early on.

A miscue on special teams by Chandler resulted in a punt being touched by the returner, then getting away. The Huskies pounced on the ball at the Wolves' 18-yard line.

But, Hamilton fumbled while getting sacked and senior defensive lineman Kyle Hunt made the first statement on that side of the ball for Chandler with the recovery.

The offense turned it into points going 66 yards in eight plays. Perkins completed a couple passes to Taj De Carriere and scored the first of his two touchdowns on a 21-yard keeper to give the Wolves a 7-0 lead. Chandler (13-1) had a knack for striking early. For the season, CHS outscored its opponents in the first quarter, 187-37.

The Huskies answered with a long kick return by Kaleb Pitts to the 45-yard line and drove inside the 10-yard line as the second quarter began. But, quarterback James Sosinski was hit and fumbled inside the 5-yard line. senior safety Jaray Mills recovered the loose ball and once again the defense bent, but didn't break.

"(The key was) not executing in the red zone," Hamilton head coach Steve Belles said. "We had our opportunities. I tip my hat to Chandler, because they deserved to win."

Chandler, starting from its own 2-yard line, went on a long 16-play drive that took more than seven minutes off the clock. A pass from Perkins to Reed-Campos from 10 yards out gave the Wolves a 13-0 lead (extra point was missed). The ASU-bound quarterback spread the ball around completing passes to six different receivers in the first half.

First down runs by Ari Johnson and Rico Tipton put the Huskies deep in Chandler territory once again late in the half. Hamilton penetrated as far as the Wolves' 18 this time around before a holding penalty backed the Huskies up and made for a long 50-yard field goal attempt which was well short.

The Wolves outgained Hamilton 175-77 over the game's first 24 minutes. Perkins was 11-of-14 in the half. He would attempt just three passes the rest of the way as Chandler asserted itself on the ground.

Hamilton, meanwhile, completed just two of six pass attempts in the half. But, the Huskies were far from out of this one. They received the second half kick and executed what the game plan was - ball control offense.

Taking almost six minutes of the third quarter, Hamilton started at the 37 (after another good kick return by Pitts) and ran the ball on eight of 11 plays getting on the board with some trickery as senior receiver Brandon Krcilek took a pitch on a reverse and went 11 yards into the right side of the end zone to get on the scoreboard, and close to within six.

The Huskies got possession of the ball again at their own 1-yard line after an interception by Kyeler Burke. They advanced it to Chandler's side of the field to the 35-yard line and went for it on fourth-and-one. Johnson tooked the handoff, and once again Mills put himself in the right position stuffing the run and killing Hamilton's momentum.

Sandwiched in between Chandler's fourth quarter scores, Hamilton reached the Wolves' 16 behind several completions by Sosinski (who completed 12 passes in the second half). But, this time the defensive hero was junior corner Kyree Woods, who picked off a pass in the end zone to thwart the Huskies' last chance.

"I was late to the second receiver," Woods said. "I just used my instincts and got the ball."

Chandler High opened in 1914 and is one of the Valley's oldest high schools. Coached by Shaun Aguano, the Wolves have had several players move on to play Division I college ball and some of those now play on Sundays.

"It's been 100 years coming," Aguano said of CHS finally getting the monkey off its back. "I'm so happy for all the guys that played for us in my 15 years here."

Both teams played difficult schedules during the course of the year. Chandler's slate opened with Centennial and then later in September, with a trip to Colorado to play Valor Christian. Both of those teams will try to win state titles on Saturday.

"I thought they were resilient," Aguano said of his charges. "They persevered this season. We played in 36-degree weather in Denver."

While this was a first for Chandler, the entire district felt the source of pride with seeing two of its teams make it through the 16-team bracket to the finals.

"I'm just the facilitator," Aguano said. "Our coaching staff works hard. We're just the football side, but it's a huge game for the city of Chandler."

Despite being the top seed, Hamilton was regarded as the underdog by much of the media, and was also outnumbered by nearly 2-1 by the fans. Belles said he loves this group of seniors, even though they weren't able to win an eighth championship for the school.

"The younger kids will build on what we did tonight, because we want to get the gold ball back," Belles said. "I'm tired of this runner-up trophy."



Wolves 28, Huskies 7

| | 1 | 2 | 3 | 4 | F |
| --- | --- | --- | --- | --- | --- |
| Chandler | 7 | 6 | 0 | 15 | 28 |
| Hamilton | 0 | 0 | 7 | 0 | 7 |
First Quarter:
Chan - Bryce Perkins 21 yard run (Daniel Lubitz kick), 3:41
Second Quarter:
Chan - Micah Reed-Campos 10 yard pass from Perkins (kick failed), 4:45
Third Quarter:
Ham - Brandon Krcilek 11 yard run (Dylan Brown kick), 6:38
Fourth Quarter:
Chan - Perkins 8 yard run (Chase Lucas run), 7:01
Chan - Reed-Campos 15 yard run (Lubitz kick), 1:43

PHOTO CAPTION: The Chandler offensive linemen pose with the Division I championship game trophy following the Wolves 28-7 win over Hamilton. Included in the photo are Xavier Alvarado (63), Vinny Vital (67), Brandon Ramirez (66), Keola Daniels (75), and Tziah Moore (76). Chandler rushed for 205 yards in the game with 113 by junior Chase Lucas. CHS finished the season with a 10-game winning streak and never trailed in any of those last 10 games.

---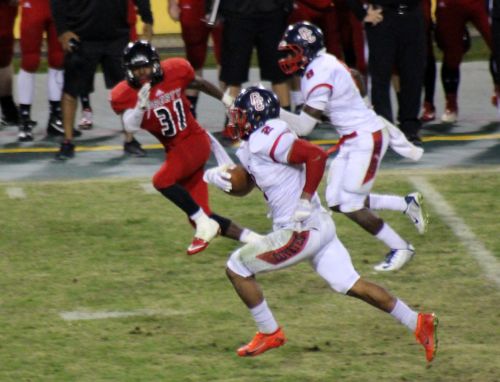 Coyotes run Peoria (and Division II)

Dedrick Young and clock-eating ground game lead Centennial to championship

CHAMPIONSHIP BLOG: 11/29/14
Early in the day, on Championship Saturday, I had the opportunity to serve as a guest co-host on the KMAN on Saturday radio show. As part of the gig, we interviewed Centennial head coach Richard Taylor. I asked him what Centennial needed to do later that night to come home with the trophy in the Division II title matchup with Peoria District-rival Liberty.

Now, he could have given the standard answer of "score more points than them", but he didn't. Here's what he said:

"We need to be able to run the football, stop their run, limit penalties, and play turnover-free."

Let's take a look at how the Coyotes did at accomplishing those missions:

Centennial rushed for 292 yards while allowing just eight yards by the Lions. The Coyotes had nine penalties, but they were only for 50 yards. Centennial also won the turnover battle 2-0.

So, it comes as no surprise that Taylor did indeed take the gold ball home to 79th Avenue with a 26-14 victory.

"That is a recipe for Centennial," Taylor said after the game. "There's many ways to do it."

The championship for the Coyotes is the fourth in the school's history. Centennial won a trio of titles from 2006-2008 and recently made appearances in two other title games in 2010 and 2012.

Centennial running back Dedrick Young came into the game averaging just 13 carries per game. In this one, he was a workhorse pounding out yardage four and five yards at a time before finally breaking loose on a 75-yard run with just over eight minutes remaining to give the Coyotes momentum back. Young finished with 180 yards and two touchdowns rushing (three overall) on 26 attempts.

"Dedrick can run the ball 30 times a game, or five times a game and he doesn't say a word," Taylor said of his humble senior. "If someone else gets the spotlight, it's fine with him."

The running game was good during the first quarter for Centennial (12-2), but each team was forced to punt twice in a scoreless period. The Coyotes gave an indication of where this was going as they held an 84-19 advantage in total yards and had the ball for more than nine minutes of the 12-minute quarter.

In the second quarter, Centennial converted twice on fourth-down plays as quarterback Isaac Steele moved the chains on keepers of two and 10 yards. Then, the Coyotes attempted a 39-yard field goal and missed. But, kicker Joe Navarro was hit on the attempt and Liberty was flagged for roughing giving CeHS a first down at the 11-yard line.

Centennial made the Lions pay for that one as Young went around the right for the first of his touchdown runs. It was also the 50th in his Coyote career for Young, who will be playing running back or linebacker on Saturdays in the near future. He has 13 college offers and eight of them are from schools in the Pac-12 Conference.

Liberty (12-2) had its first big play of the night with a 42-yard pass from senior quarterback Tyler Wyatt to Deyton Jackson to reach the Centennial 35-yard line. But on the next play, the Lions tried for some razzle dazzle and Wyatt gave it to receiver Alex Hunter, who then tried to throw it back to him. Instead, Coyote defensive end Micah Navarrete picked it off and took it back to the Lions' 32.

After converting yet another fourth down with a keeper, Steele showed he can pass as well and completed a toss to Daniel Smith, who made a move to the goal line and just crossed it before getting hit and fumbling. The Coyotes, who won the earlier meeting with Liberty 17-14 in late September, took a 14-0 advantage into the locker room.

In the first half, Centennial enjoyed a 3:1 dominance in time of possession as Liberty had run just 17 plays. Just one week earlier, in a 47-0 whitewashing of Cienega, the Lions had 60 snaps from scrimmage. Liberty came in averaging 40 points per contest.

"They just executed real well," Liberty head coach Dan Filleman said. "Their best defense was keeping our offense off the field."

In the third quarter, the Lion deficit ballooned as Centennial scored on a 25-yard screen pass to Young, who went into the end zone untouched led by junior blocker Marshal Nathe. A missed extra point put the score at 20-0, where it stayed entering the last 12 minutes.

"The line blocked late and my pulling guard cleared," Young said. "It was great seeing Nathe there."

But, Liberty wasn't done yet as Wyatt launched a pass deep that junior Alex Jackson grabbed in double coverage to get the Lions on the scoreboard.

The defense stepped up and made a three-and-out stop as Centennial took less than two minutes off the clock. Jackson fielded the punt at midfield and took it the distance and all of a sudden, the dominant Coyote performance was reduced to a slim 20-14 lead with less than nine minutes remaining.

All night, it was long drives and fourth-down conversions that kept the chains moving for Centennial. However, this time it was the electric run by Young that gave Coyote fans breathing room just 35 seconds after Liberty had battled back into it. That was the backbreaker.

"We knew we needed to execute and get the momentum back," Young said.

The Lions had a last gasp late getting to midfield before junior defensive end Chris Jules wreaked havoc with any comeback plans. His fourth sack of the night backed Liberty up into a third-and-17 where safety Quentin Gomez intercepted the ball to ice the victory.

"It feels amazing, especially after all that hard work," Jules said. "I felt that I executed coming from the outside."

While Jules was chasing down the quarterback, middle linebacker Bozton Sanders was stopping the run. The 6-foot, 240-pound junior captain was all around the ball throughout.

"Coach told us to move around and have fun," Sanders said. "I'm like a ball tracker. We just had to be aggressive."

For Liberty, it was a season to remember. The Lions have had a lot of success in a short time and have a record of 60-13 in its past six seasons as a full AIA-member. This was the first trip to the Finals for LHS and with many juniors returning, the future is bright.

"They're just trendsetters," Filleman said of his senior class. "They showed our kids how to play at a more physical level."



Coyotes 26, Lions 14

| | 1 | 2 | 3 | 4 | F |
| --- | --- | --- | --- | --- | --- |
| Centennial | 0 | 14 | 6 | 6 | 26 |
| Liberty | 0 | 0 | 0 | 14 | 14 |
First Quarter:
No Scoring
Second Quarter:
Cent - Dedrick Young 11 yard run (Joe Navarro kick), 6:29
Cent - Daniel Smith 7 yard pass from Isaac Steele (Navarro kick), 1:11
Third Quarter:
Cent - Young 25 yard pass from Steele (kick failed), 2:25
Fourth Quarter:
Lib - Alex Jackson 38 yard pass from Tyler Wyatt (Wyatt kick), 10:41
Lib - Jackson 50 yard punt return (Wyatt kick), 8:55
Cent - Young 75 yard run (run failed), 8:20

PHOTO CAPTION: Centennial running back Dedrick Young is off to the races on a 75-yard dash to the end zone in the fourth quarter of Saturday's Division II State Championship at Sun Devil Stadium. The Coyotes held off their district rivals from Liberty 26-14 to claim their fourth state championship in school history, and first since 2008. Young finished the game with 180 yards rushing and two scores (plus one receiving). That output makes his season total go over the 1,500-yard mark.